In 1962, recent graduate Gary Clark made a modest gift to Ohio University. The next year, he did it again. In fact, Gary's now given to OHIO for 59 consecutive years and counting! (Yes, that's a record.) Gary has always understood that it isn't the amount that matters. Each person giving what they can to The Fund for OHIO combines into something bigger to move us Forever Forward. Give to the place that gave you so much. Give Like Gary.
The OHIO Experience: A life-changing gift
Discover the impact gifts from alumni and friends had at Ohio University in Fiscal Year 2020.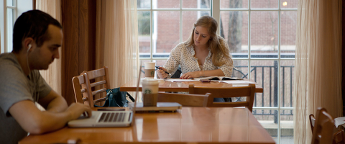 Featured Fund
Student Emergency Fund
Support emergency needs for students
Provides funding for students experiencing unforeseen financial crises, who can apply for a one-time emergency micro-grant to cover needed supplies and/or bills, keeping them at OHIO and focused on their college journey.